When walls fall, creativity flows in. Such is the story of today's Berlin. Most of us know about the great Berlin wall coming down, but we want to focus on the soul of the city today. Art stimulates us creatively which makes us better, more productive, more original nurturing the entrepreneurial spirit. Art can force us to think more deeply, feel more fully and engage more wholeheartedly. Art can be uncomfortable but art is necessary and makes us unique. Which is why business and the arts work so well together.
It is not news that the most influential companies in Silicon Valley's invested in art and artists to bring life to their headquarters for inspiration to create amazing work environments and experiences that help employees perform at their best every day.
Laura Cardona, our Senior Event Manager, who holds degrees both in Arts and in Communications, worked in the cultural industry for over 10 years before joining the Prelude family. During this time she found herself working in Berlin several times. All those experiences in the German capital impressed her. Every time she worked in Berlin she discovered new venues that capture her attention. She particularly values how the art community transforms and empowers historical landmarks into unique venues. Not so far from this transformation she finds corporate events an opportunity to inspire people through aesthetic experiences, spaces that lend to unique networking atmospheres, and provides a remarkable experience that will leave you with a positive impact.
Those years combined with years of experience in the MICE industry result in a creative and proactive approach to event management. To Laura, Berlin is one of those cities with energy and creative buzz that draws international attention, not only for the artistic community but also for MICE events and fairs.
Today we want to share a brushstroke of some un-conventional spots that find a special place in the art community that shares a remarkable past.
#Künstlerhaus Bethanien
Bethanien was a former hospital built in 1847 under the orders of Frederick William IV, and today the impressive grounds house contemporary art with a sociopolitical bent. Far removed from the swanky galleries out West and in Mitte, Künstlerhaus Bethanien is both an exhibition space and a studio for working artists.


#Flutgraben
Is an old, heritage-protected factory building – originally a vehicle repair shop – that in 2012 was under conscious renovation. The building is located at former Kunstfabrik am Flutgraben and it is dedicated to the growth of artistic works before and after their release. The project is run by several artists and focuses on choreography, dance, and performance. And guess what, Laura performed there back in 2011 when she was passionately involved in the local art community.


#Wasserturmplatz
The Water Tower is an eye-catching round tower in the heart of Prenzlauer Berg. Its elevated park offers a majestic view across the city and serves as the perfect hangout spot in the summer and invites for leisurely strolls in the winter. If you do ever have the opportunity to tour the underground cisterns, it is well worth the experience. Visit their website for opening times as it is seasonal and often used for special events, art exhibitions and wine tastings.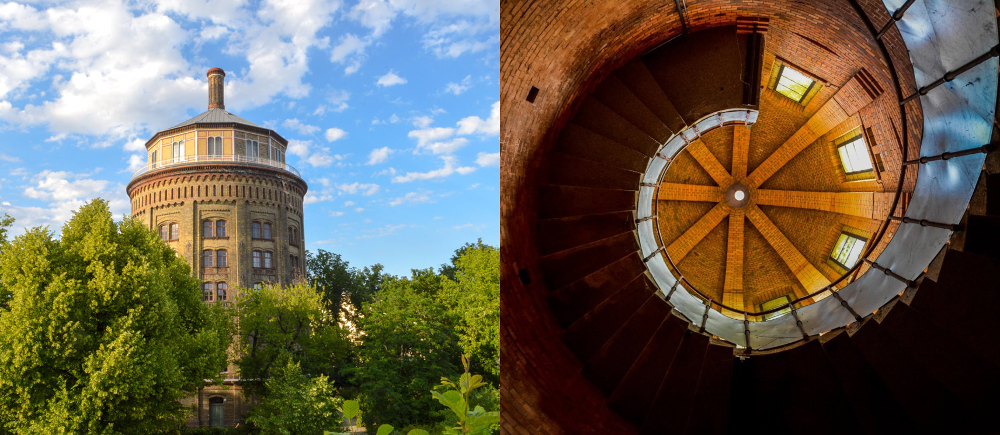 In our eyes, Berlin is a city that offers endless opportunities for unique events with a plethora of commercially available historical landmarks synergizing art with corporate, rarely seen anywhere else in Europe. If you would like to consider holding your next event in a special destination, do not hesitate to contact us at Prelude Events.