ISE Barcelona was going to be celebrated between the 2nd and the 5th of February 2021 onwards and instead it's been postponed to June 1st to 4th. Check out our safe events recommendations. The show will include the additional support of a virtual content and networking programme with RISE Digital.
Integrated Systems Europe (ISE) is the most important audio-visual show in the world.
The trade fair is celebrated every year, currently in Amsterdam, and signed to move to Barcelona.
They held the first edition of the show in 2004 in Geneva with around 3,500 attendees. It grew consistently with the latest edition welcoming more than 20 times the first edition in attendees and some of the most prestigious companies in the audio-visual and integrated systems industry.
Keep reading to find out why the fair is relocating, why they chose Barcelona and what this means. Also, how to choose the right agency for your event and how we can help you. Or just jump to the section you're most interested in from this table of contents:
Why Is ISE Relocating?
After months of research, with ISE exhibitors and attendees growing 10% every year, it was confirmed that staying at the current Amsterdam's location wasn't viable anymore. In 2018, with 80,923 attendees (22,000 more than the previous year) ISE needed 53,000 sqm of floor space. Meanwhile, the new spot, Gran Via of Fira Barcelona, which is the same venue as Mobile World Congress (MWC), is able to attract 2 million attendees and has over 400,000 sqm. Thus becoming the ideal space to take ISE to the next level.
"The RAI and Amsterdam have provided a fantastic location, been great partners and contributed to the success of the show. But, demand from exhibitors and the continued increase in the numbers of attendees, showed us that limited floor space was in danger of putting a brake on the show's development. In spite of all our best efforts this was not an issue we felt could be solved by staying at the RAI Amsterdam." – Mike Blackman, Managing Director, Integrated Systems Events
Why ISE Chose Barcelona?
ISE is choosing the city to grow while it confirms Barcelona's leading position. In 2017 alone, Barcelona hosted 195 international conferences and congresses, more than Paris or Vienna, according to ICCA (International Congress and Convention Association). That made her the number one association meetings host in the world.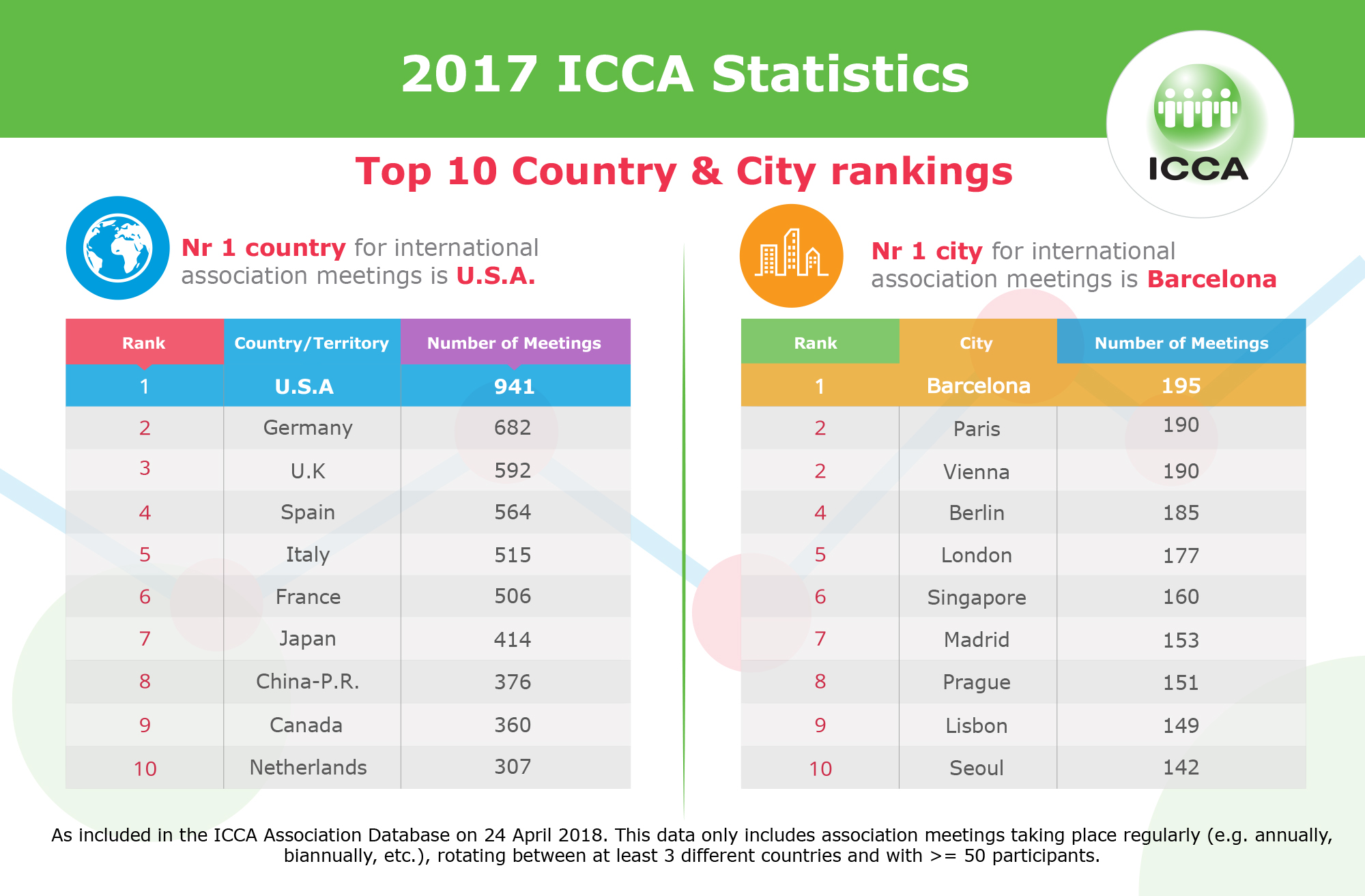 They chose Barcelona unanimously after analyzing different venues around Europe and listening to the feedback from exhibitors and attendees. ISE placed a great deal of value on Fira de Barcelona's prestige, the quality of the Gran Via facilities and its communications, which guarantees:
A flow of attendees like no other
Next generation services and logistics
A great location with easy connection to the airport and the public transport system
Blackman (Managing Director at Integrated Systems Events) calls Barcelona "a hub of innovation and technological development". He also added that, despite ISE is moving to continue growing, they are "not trying to be everything to everybody" and  "not trying to grow for the sake of growing."
What ISE Barcelona Relocation Means?
ISE Barcelona relocation means:
An estimated economic impact of $400 million in the city from ISE attendees (hotels, restaurants, transport…)
A win-win situation for all parties with opportunities to grow both for Barcelona and for the event
ISE will keep providing the place to do business in audio-visual (AV)
Having larger stands and significantly shortening the waiting list
With a lot more floor space for attendees, you will bump less into others while running from meeting to meeting. Although there will be more ground to cover as well
Organizers will also have more room to enhance the attendees' experience, boosting in quantity without compromising on quality. Not only the product itself or using things like VR. But also upgrading how impressive the display of a product can be, which is a valued aspect of going to a congress of these characteristics
More attendees could stay for the show's last day or plan to spend it at the show and stay for the weekend. In the last 2 years, 12,000 and 18,000 attendees came on the last day despite last day of any show is always the lightest on attendance
ISE will likely have more end users as attendees. One of AVIXA's, the trade association representing AV industry worldwide, goal is actually increasing end users who attend their trade shows. And they are the co-owners of ISE. While this might be an issue for some, the change is inevitable and very important to the future growth of the event
As the show gets larger, more people will want to see why more people are going. This will bring even more media coverage, elevating the profile of the whole event
Better weather conditions. While this is not the priority of business travel, there's no doubt it's a part of the experience
How to Choose The Right Event Agency For Your Event During ISE Barcelona?
Make sure you choose an event agency with the following features:
Local: For local relationships, experience and knowledge. Choosing a local agency is very important since only they are equipped to do the necessary quarterbacking. This ensures:
Local relationships for competitive pricing
Local event planners familiar with the events community
An agency that works with local suppliers year round, not just one conference a year
Experienced: For a trouble-free, seamless operation along with successful logistics and transport.
Multilingual: It's essential for the agency to be able to communicate with you properly. From understanding and meeting your objectives, to maintaining a great customer experience and solving any issues that arise thus eliminating cultural language barriers.
Professional: Getting certified event planners will guarantee you a good quality event. Objectives will be met within your budget, while communicating your desired message. At the same time, this will enable you to connect with your attendees.
Can get you an ROI: So your event is not perceived as a waste of time and money. Check out our infographic about the return on the investment of events and why to invest in them.
Budget-conscious: The experience can turn sour if your event breaks the bank. Find an agency that can understand the value of your investment and that strives to be budget friendly for the best satisfaction.
Trustable and reliable: Spending a significant sum to organise an event a world away can be a daunting task. Choose an agency with a proven process and successful track record able to deliver a unique and desirable customer experience every single time. Professionals with a focus on feedback from attendees (securing approval from colleagues and superiors). So they leave the event with a positive experience and great memories long after the event is over.
How Can Prelude Events Help You To Have The Ultimate Event Experience For ISE Barcelona 2021?
Prelude Events has all the previous points covered for you and more since you'll also have a fun and genuine experience with us while keeping it safe. We are a multilingual and certified team of event planners based in Barcelona that you can trust with over 20 years of established relationships.
Get a cost-effective, custom-made and highly creative event in another country. Meet your objectives within budget. Ensure a seamless operation. Get an ROI and a memorable, fun and genuine experience for your attendees. Check out our previous events to see our scope of work.
Did you enjoy the article? Did we answer your questions about ISE Barcelona? Share it and let's continue the conversation on Social Media!